I see the practice over and over again.  Personnel making spaces a little darker by removing fluorescent bulbs in an effort to reduce energy consumption.  Hey, if there is less light, there must be less energy!
Right?
Wrong.
The primary consumer of energy in a fluorescent light is the ballast.  With the bulb removed, all you end up doing is converting all of the visible light energy into heat from the ballast.  Oh, and generate a little eye-strain in the bargain.
Instead, if you wish to remove fluorescent bulbs instead of changing them to high efficient bulbs and fixtures, then make sure you also disconnect the associated ballast!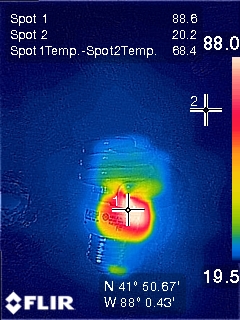 On the same note – incandescent bulbs are rapidly disappearing and being replaced by fluorescent light bulbs, which also use a ballast.  If the fixture is on and the bulb burns out, it is still consuming almost exactly the same energy it was consuming when it was producing light.  Instead, you are producing heat.  Replace the bulb, or remove it, as soon as possible!
The above picture is of a burned-out florescent bulb that had been removed from a multi-bulb lighting fixture.  Notice the heat still present in the area of the ballast!